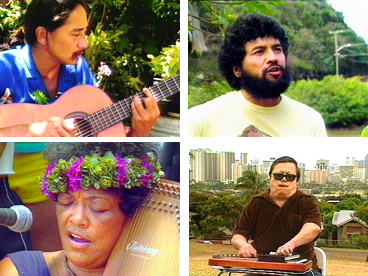 A compilation of music from Hawai'i and the Pacific that celebrates our love for the land and gives voice to our cries for justice and sovereignty.
musicians and singers
Mike Kahikina, Nelson Waialae, Lopaka Brown, Brother Noland, Olomana, Peter Kealoha, Imaikalani Kalahele, Huarere String Band, Graham Nash, Bernard Punikaia, Skippy Ioane and Liko Martin. Also Frank Kawaikapuokalani Hewett and Kuhai Hālau O Kawaikapuokalani Pā 'Ōlapa Kahiko.
1986
Length: 1 hour
Broadcast, cablecast
PBS Hawai'i (Hawai'i Public Television)
Hawai'i public access channels
Community Channel • Sydney, Australia
Screenings
Hawai'i International Film Festival
South Seas Cinema Fest • Hawai'i
Spoleto Fringe Festival • Australia
American Film Institute video festival • Los Angeles
Asian Cinevision • New York City
Museum Für Völkerkunde • Berlin