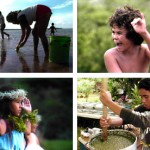 The Hawaiian word waiwai denotes something valued or treasured, true wealth. This program explores the concepts of aloha 'āina (love for the land), kōkua (helpfulness), 'ohana (family), and "thinking island."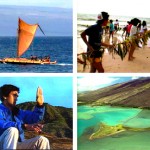 Fisherman Ray Kalili supervises a neighborhood hukilau, a group fishing technique, on O'ahu's windward coast. Ethno-historian Marion Kelly describes the use of fishponds in old Hawai'i. Navigator Nainoa Thompson explains the art of wayfinding, or long-distance ocean navigation. And artist/philosopher Sam Ka'ai speaks of the continent of ocean that makes up the Polynesian world.

More Details

Originally produced for the school children of Hawai'i.

1986
Length: 20 minutes


Broadcast/cablecast
Hawai'i Public Television (PBS Hawai'i)
Community Channel • Sydney, Australia
Hawai'i public access channels

Screenings
Museum Für Völkerkunde • Berlin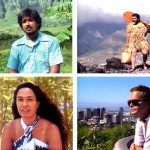 The Hawaiian term ho'āla hou means to awaken anew. Hosted by artist and philosopher Sam Ka'ai, this program looks at the re-emergence of a Pacific way of thinking, of seeking self-sufficiency, and of preserving the cultural heritage of the first people of Hawai'i.

More Details

Featuring
Eric Enos, Haunani-Kay Trask, Angel Pilago, Ramsey Pederson and Charley Poouahi.

Originally produced for the school children of Hawai'i.

1987
length: 20 minutes

Broadcast, cablecast
Hawai'i Public Television (PBS Hawai'i)
Community Channel • Sydney, Australia
Hawai'i public access channels

Screened
Museum Für Völkerkunde • Berlin